A Visionary Pursuit:
Leaving a Legacy
Some simple planning can have a lasting impact on the patients and families who rely on HopeHealth's specialized care in Massachusetts and Rhode Island. Learn how to add HopeHealth to your will or estate plan today!
The Value of Going Home with Help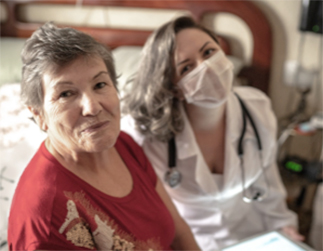 People who are hospitalized with chronic illnesses like congestive heart failure may be eager to go home, but many are worried, too. Medication schedules can be complicated. Changes to diet and physical activity can feel daunting. Monitoring symptoms and vital signs daily can create concern.
Our job at HopeHealth Visiting Nurse is to build trusting relationships, to support a positive mindset, to keep patients healthy, and to prevent unnecessary emergency room visits. A visit from a HopeHealth Visiting Nurse caregiver can offer the critical link between patients and their physicians, helping them stay on top of subtle health changes that, if left unattended, can quickly turn into a crisis. Our Nurse support patients in their goals to remain independent at home.
When asked, HopeHealth Visiting Nurse patients share similar stories of appreciation when able to return home with personalized support, as they perhaps learn a new way of eating or safely moving around their homes. The emotional support and supportive interactions they experience help to hasten the healing process and give them confidence to return to their normal lives, or to adapt to new ways of living.
Because of your support, patients can leave the hospital confident that HopeHealth staff will be there, visiting on a regular schedule, monitoring their symptoms and medications, and immediately addressing any questions or concerns. And, contributions to HopeHealth Visiting Nurse helps to provide essential care in homes throughout our community – and with utmost care for our patients' safety and wellbeing, even during this unprecedented health crisis. 
Questions about giving to HopeHealth?